Green Mark works in partnership with reputable energy and carbon reduction consultancy, Carbon Architecture, to help organisations achieve long-term sustainability goals.
Leon Jones, Tees Active's Managing Director, said: "We are delighted to have achieved Level 1 of the Green Mark accreditation because it gives us confidence that our Environmental and Sustainability Plan is robust and heading in the right direction."
"It gives the plan additional focus and direction, but there is no room for complacency. We know this is just the starting point for our long-term sustainability journey, and we are determined to build on this solid foundation."
There are three steps towards full Green Mark accreditation, with Level 1 recognising the effectiveness of Tees Active's plans, including the reduction of carbon emissions, along with gas, electricity and water consumption, and improving recycling.
Level 2, which is Tees Active's next aim, will focus more on the organisation's community involvement in initiatives such as tree-planting and litter-picking.
Leon Jones added: "The Tees Active board recognises that sound environmental management is important to the organisation's future and must be fully integrated into our management and operational procedures."
"We are committed to delivering our services in an environmentally responsible manner by reducing the environmental impact of everything we do wherever possible."
As part of its environmental planning, Tees Active has recently invested in new technology and facilities, including replacing pool covers at two venues, upgrading and introducing new voltage optimisers at local venues and, in partnership with Stockton-on-Tees Borough Council, installing a solar panels scheme at IB Leisure in Ingleby Barwick.
Partnership working has included Tees Active playing an important role in Stockton's recently launched Business Climate Coalition, and contributing to the North East England Climate Coalition.
Between April 2017 and March this year, Tees Active has saved 555 tonnes of Co2, and increased recycling at its venues by 33 per cent.
A 'Green Team' has been set up to promote sustainability, drive change, and engage with employees across all venues, while new initiatives include lost property being recycled through the British Heart Foundation if it hasn't been reclaimed after three months.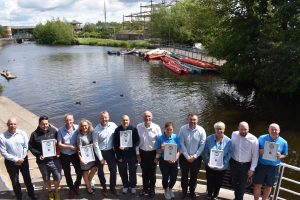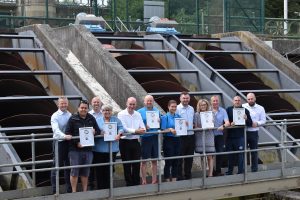 Over the past 12 months, four huge 'Archimedes Screws' at the Tees Barrage International White Water Centre have generated enough energy to power 33 homes for a year.
Leader of Stockton-on-Tees Borough Council, Councillor Bob Cook, said: "We're delighted that Tees Active are playing their part in reducing the Borough's carbon footprint and are reflecting the importance of putting sustainable practices at the heart of their business.
"Reaching the first stage of the Green Mark accreditation shows that their environmental plan is both ambitious and innovative. We look forward to continued progress being made towards their long-term sustainability targets."