Swim Challenges Return!
Saturday 1st May sees the return of Tees Active's infamous swim challenges! This will be the first swim challenge since the 1917 challenge, which started on 2nd March 2020, had to be cancelled due to the COVID-19 pandemic.
We couldn't be happier to see the return of our regular swim challenges, which give swimmers a fun goal to work towards when they visit our pools and offer great incentives to complete them too – PRIZES! Each swim challenge is different, in the past we've challenged you to swim the lengths of all the lakes in the Lake District, swam to Lapland to visit Santa and used our challenges to raise money for charities like Stand Up To Cancer.
For our first swim challenge since the pandemic hit, we thought it was only fitting to choose a 4km swim up the Hudson River NYC around the Statue of Liberty – an international symbol of freedom. That is what we are celebrating with this latest swim challenge, our freedom. We have recently came out of the UK's third and hopefully last lockdown, we all feel as if we have been cooped up for far too long and although things aren't quite back to normal yet, we can still celebrate our freedom!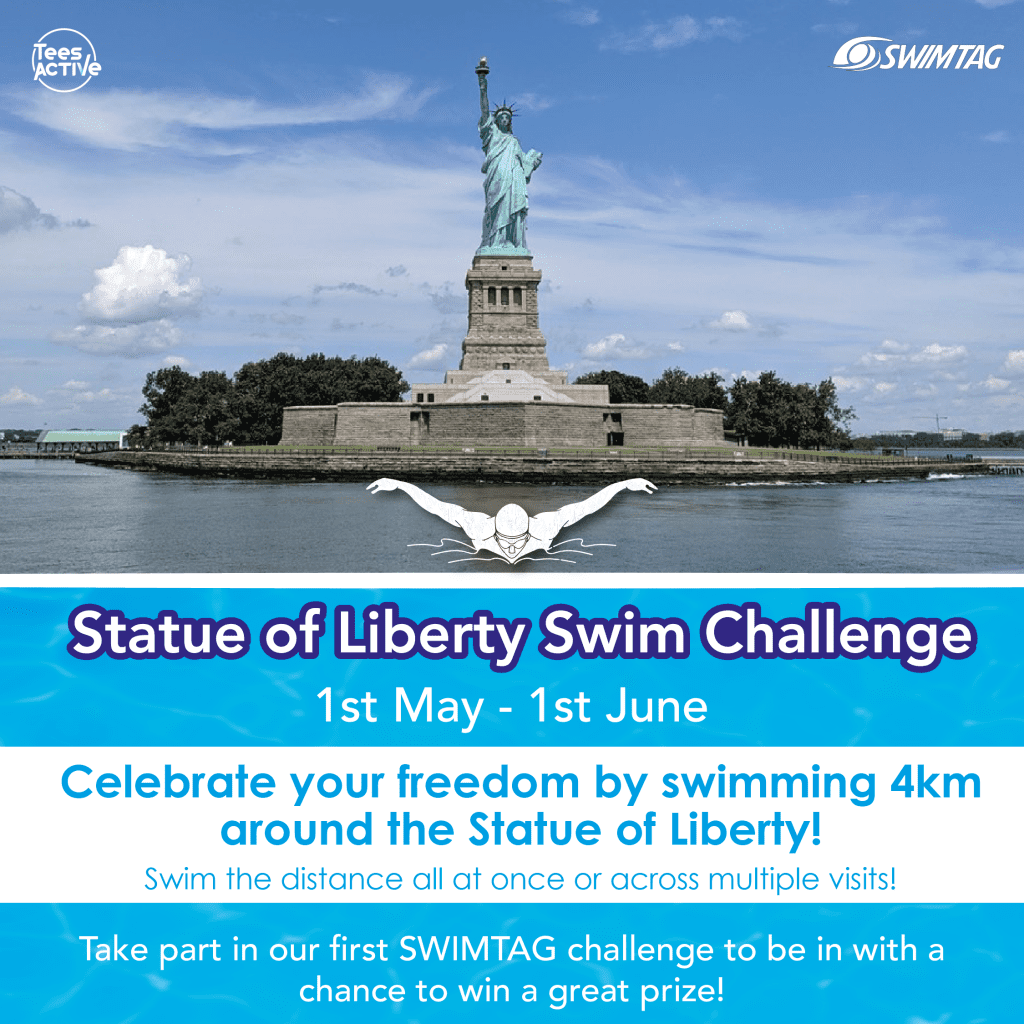 If you fancy feeling free and celebrating with us, head down to your local Tees Active pool – Stockton Splash, Billingham Forum, IB Leisure or Thornaby Pool – and pick up a SWIMTAG band to take part. Using SWIMTAG you can accurately track lots of swim data, including your speed, strokes and lengths, as well as see your challenge progress in real time on the challenge map within the app.
If you don't want to use SWIMTAG that's okay, but you'll need to keep track of your lengths and hand them in to reception when the challenge ends, along with your name and contact details. You can keep track of your lengths using the notes on your mobile perhaps, or even good old pen and paper. However you track them, make sure you hand them into one of our pool reception teams when the challenge ends and you'll be entered into the prize draw!
Seeing the return of our swim challenges are another step in the right direction for all of us here at Tees Active and we couldn't be happier!
Good luck, we're routing for you!