Over 90 care home residents and carers joined Tees Active at the Billingham Forum Ice Arena as part of the latest 'Care Home Legends' event, which was supported by the Tees Valley Community Foundation, Stockton-on-Tees Borough Council, and Care Home Physical Activity Co-ordinators. The 'Care Home Legends' sessions create opportunities that enable care home residents to experience and enjoy local venues.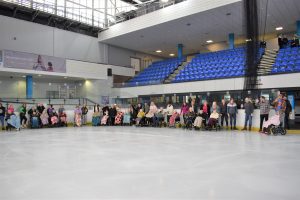 The 'Residence on ice' event was ultimately a collaboration between Tees Active and over 10 care homes across the borough of Stockton-On-Tees, that aimed to bring joy and adventure to the lives of those who might not otherwise leave the care home. Hugh McGouran, Chief Executive of Tees Valley Community Foundation, added: "This event highlights what can be achieved by care home residents and their fantastic staff, to change perceptions and create opportunities to increase physical activity levels and improve mental wellbeing."
The event was particularly spectacular as it allowed those who are less abled bodied to access the rink via wheelchair, mimicking the sensation of gliding across the ice and ensuring that everyone had the chance to create precious memories. One skater from Maple Care Home said "this has been one of the best days of my life".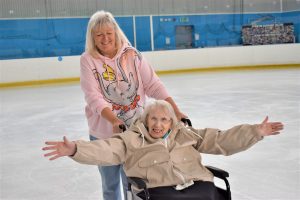 Before the residents took to the ice, there was a spectacular figure-skating exhibition performed by 3 of the Tees Active's Sports Academy, Lola Reay aged 12, Faith Freeman aged 13 and Annalise Jones aged 17. The girls then remained on the ice and assisted in pushing the residents around the rink. Stockton-on-Tees Borough Council's Transformation Manager for residential care, Julie Nisbet, who has been supporting the programme, said: "The main outcome was that the residents had a fantastic morning and left with smiles on their faces."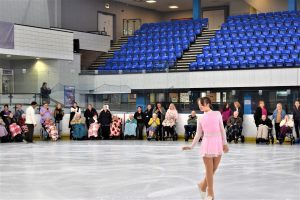 Margaret Chaplin, a resident from Ayresome Court Care Home, described the morning as "absolutely magic" and Allan McDermott, Tees Active's Community Engagement Manager, concluded that "Residents on Ice is another great example of partnership work, and it was fantastic to see how much care home residents and staff have enjoyed themselves."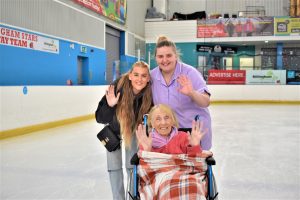 Residents on Ice will soon be followed by another Care Home Legends event at Thornaby Pavilion, with care home residents invited to a multi-activity event, and the action being live streamed back to their care homes, so fellow residents can cheer on their friends.