Care Home Legends Loving Life
Residents from Stockton Care Homes definitely proved that age was just a number as over 100 participants from 12 Care Homes descended on Thornaby Pavilion to take part in the Care Home Legends Games competing in such events as Hungry Henrys, Balloon Keepy Up, Archery, Table Tennis, a Netball Shoot out a Bean Bag shoot out and on top of that the North Riding FA Shape the Play team put them through their paces in a chair-based exercise session.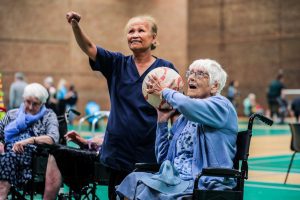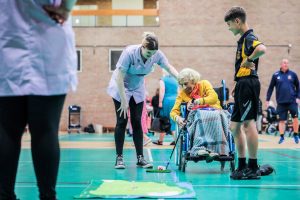 The Care Home Legends Games is part of a pioneering initiative which aims to engage with residents of care homes by enabling them to partake in activities which will keep them active with a big smile on their face.
The Care Home Legends programme which has been developed and organised by Tees Active in partnership with Stockton-on-Tees Borough Council, Stockton Care Homes and funded by Tees Valley Sport has already delivered a Residents on Ice session at Billingham Forum Ice arena and more innovative events are in the pipeline with a Christmas Extravaganza on Ice with Billingham Ice Skating Club planned for later in the year.
The Care Home Legends Games at Thornaby Pavilion had a fantastic warm up session led by the children from Treetops Nursery who had residents follow their Animal Boogie Woogie warm up. Each different event was led by volunteers from St Michaels RC Academy and volunteers who are part of the Catalyst Volunteering programme. Tees Active's marketing live streamed the event into the care homes across the borough so non-participating residents could cheer on their teams.
Allan McDermott Tees Active Community Engagement Manager said "The Care Home Legends programme is constantly developing as we are challenging residents and people's perceptions of what the residents are capable of achieving. The main aim of the programme is for everybody to leave with a huge smile on their face."
Tony Hall PLM lead at St Michael's RC Academy said "What an unbelievable experience for our young Academy students. Throughout the day they were fully engaged with the care home residents, and they thoroughly enjoyed the friendships made and the facilitation of the activities. All the students were so thankful that they had been given the opportunity to be involved in this fantastic occasion and helped bring local communities more closely together.
Theo Linton a pupil at St Michaels added" I really enjoyed going  to the Care Home Legends Games. It was brilliant seeing residents enjoy themselves and engaging in activities. There was not one resident that I saw looking miserable. It was great seeing their faces light up when they came over to the activity I was stationed at.
We will let the last word go to one of the participants Dorothy Kitchen, a resident of Windsor Court Care Home "Everybody has been lovely. It has been really enjoyable and if I have enjoyed it everybody will of enjoyed it."