Beat the Street
Beat the Street is turning the Borough of Stockton-on-Tees into a giant game and you're all invited to play!
Earn as many points as possible for you and your team by walking, cycling or rolling between Beat Boxes across Stockton-on-Tees between Wednesday 2nd March 2022 – Wednesday 13th April 2022 and be in with the chance to win fantastic prizes! The game is easy to play, simply collect a playing card from a local distribution centre and connect it to your Beat the Street online account. Once you're set up, take a look at the game map to find your local Beat Boxes and walk, cycle or roll your way there to collect points!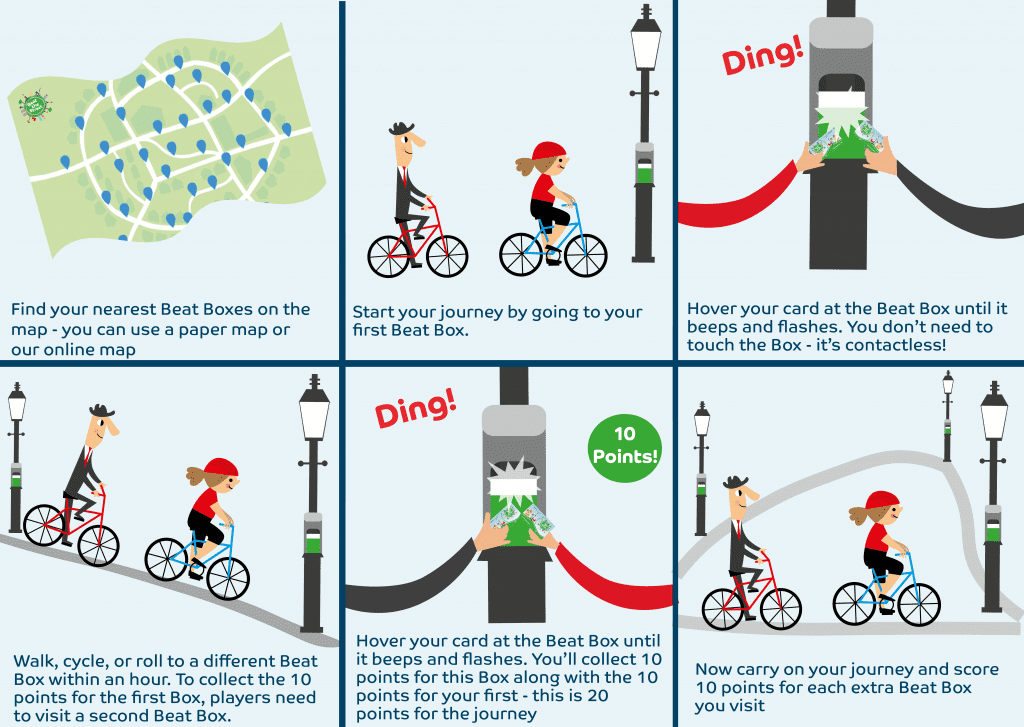 There are even challenges within the game which give you the chance to collect awards!
If you complete the challenge you receive a reward. Simple! You can unlock an award automatically by earning points or playing the game at various times of the day. Check out your dashboard to see what awards you have earned and which ones you can still play for. Can you make it all the way to Globetrotter or Planet Protector?
Status awards are unlocked when you reach a certain number of points
Wanderer: 200 points
Explorer: 400 points
Adventurer: 800 points
Globetrotter: 1600 points
Green Commute awards are unlocked when you collect points on weekdays between 07:00 – 09:00 and 15:00 – 18:00
Planet Pal: 200 points
Planet Hero: 400 points
Planet Protector: 800 points
Can you collect them all?
Tees Active Takeover
Week 5 of the Beat the Street game is Go Active week!
Go Active week is running from 30th March – 6th April and we're taking over! Throughout this week you'll get the chance to bop a Beat Box in a number of Tees Active venues for double points as well as the chance to win 1 of 50 free LiveMore discount cards! All you need to do to be in with the chance to win is head over to our venues on the days and times mentioned below, tap the box and share a picture of you with it on social media using #BTSStockton to be placed into the draw!
– Stockton Splash Wednesday 30th March 9am – Friday 1st April 4pm
– Billingham Forum Friday 1st April 4:30pm – Monday 4th April 9am
– IB Leisure Monday 4th April 9:30am – Wednesday 6th April 9am
Make sure to check your Beat the Street newsletter to take advantage of discounted activities in Tees Active throughout Go Active week too!
We hope you enjoy the game and collect as many points as possible! Happy playing!