From 1st May till 1st June we asked our swimmers to travel with us around the Statue of Liberty in New York for our first swim challenge since the COVID pandemic hit.
The Statue of Liberty is a universal symbol of freedom and that is how we felt coming out of Lockdown 3.0 – free!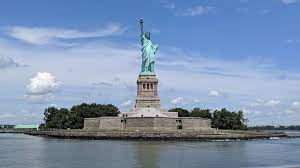 88 swimmers took part in our first swim challenge with SWIMTAG, a new social training aid that is available in all Tees Active pools. SWIMTAG tracks swimmers strokes, speed, calories and more and creates an overview of each swim. When taking part in swim challenges with SWIMTAG, swimmers were able to see their journey around the Hudson Bay in New York in real time as they finished each swim session. This was a great motivator for everyone who took part and will revolutionise the way that we are able to run swim challenges!
From everyone who took part in and completed this swim challenge by swimming the full 4080m, one lucky swimmer was picked at random and won a bunch of New York themed prizes including their very own mini Statue of Liberty! We'd like to wish a huge congratulations to Dianne Sills!
Our next swim challenge starts on 7th June and will see us swim the epic Glastonbury perimeter – sign up now through the SWIMTAG app!